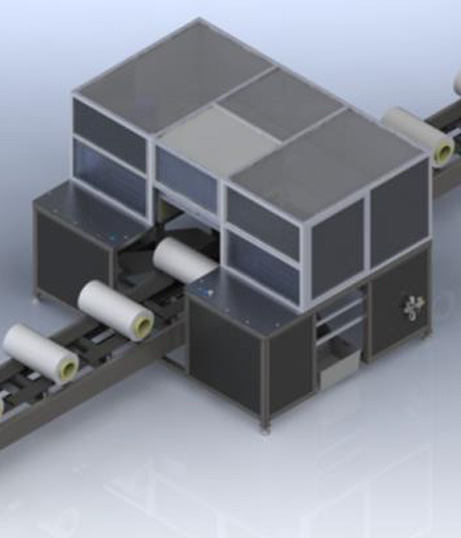 Automation For Plastic Industry
We have three solutions for you.
One
EC-300 AL
This machine has loading and unloading conveyors with up to 6 roll capacity. This machine can trim rolls from 120 mm to 280 mm OD and 280-550 mm wide. The cycle time is about 15-25 sec.
EC-400 and EC-400W.
This machine can handle rolls of 280-550 mm wide and 120 mm to 400 mm outer diameter (OD) [up to 610 mm OD for EC-400W]. This machine can trim any problematic rolls with telescoping edges and core uneven protrusion. It can make multiple cuts until the roll edge gets perfect. The cycle time varies significantly depending on the roll OD and roll quality. Minimum cycle time is 30-35 sec. The model EC-400 has also the core cutting option as a part of the trimming cycle.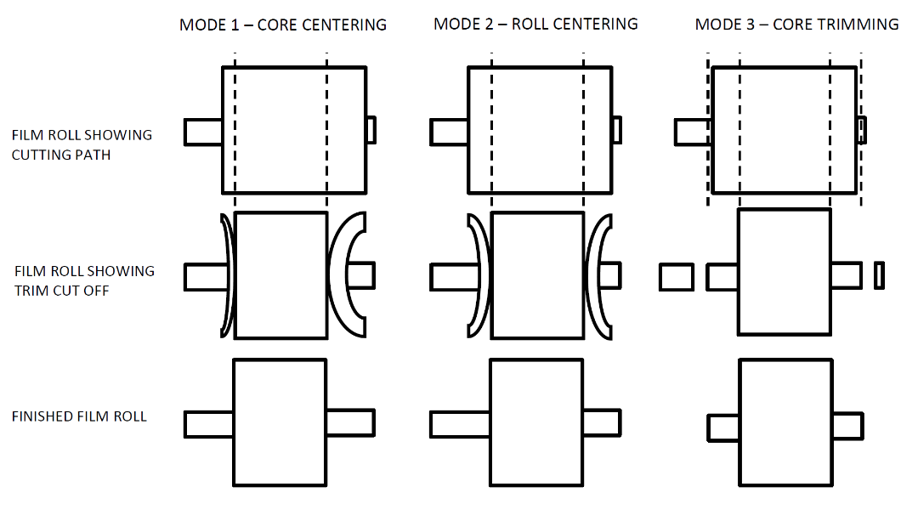 EC-200-1100
This machine is designed for trimming an extra-wide rolls from 280 mm to 1030 mm and 120 – 200 mm OD.
All the models are featured with 6 servo axes, fully digital settings, carbide knives, and more. Roll spinning, cutting speed, cutting trajectory (straight, spreading) and a multicut mode may be adjusted to get the best cut of the PVC roll (film properties and rolls winding hardness may require different cutting parameters).
These edge cutters are also suitable for side trimming of PVC shrink film and PE stretch film rolls.
AGM will support the customers with service and spare parts. We also supply the cutting knives, which can be made of Carbide, High-speed steel (HSS), D2 tool steel, etc… according to your drawings and needs.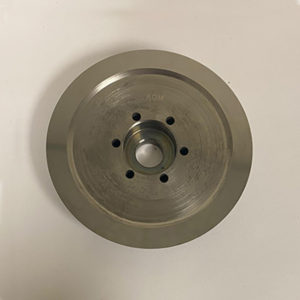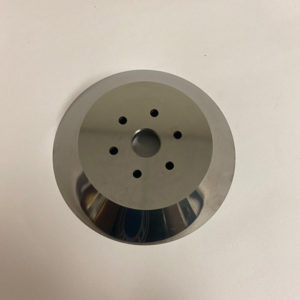 Two
AUTOMATIC BUBBLE CAGE
Multi-finger self-adjusting bubble support cage, equipped with dual motion:
Infinitely adjustable fine arms position for bubble size tracking, by means of electric actuator;
Quick Fully open, by means of a pneumatic actuator.
Various number of levels of arms to accommodate vertical possible space constraints.
Contact rollers of various materials.
Controlled by means of manual switches in manual mode, or by means of automatic controller to allow storage and retrieval of multiple positions or continuous bubble tracing.

Continuous non-contact measurement of the bubble diameter above frost line.
Continuous real time automatic control of the layflat size by inflating / deflating the bubble in stationary and oscillating die applications. Requires compressed air supply. Includes automatic changeover from size to size.
Continuous real time display of the lay flat size in rotary die applications, as well as bubble control where continuous air connection is extant.
Controlled by means of automatic controller and equipped with an HMI to allow for storage and retrieval of multiple layflat sizes, quick size change and tight tolerances of ±1/8" at 60" layflat. Unaffected by the film chemical composition, density or color.
Automatic alarm warning in case of bubble rupture or loss of compressed air, integrated with the extruder controls for handling emergency situations.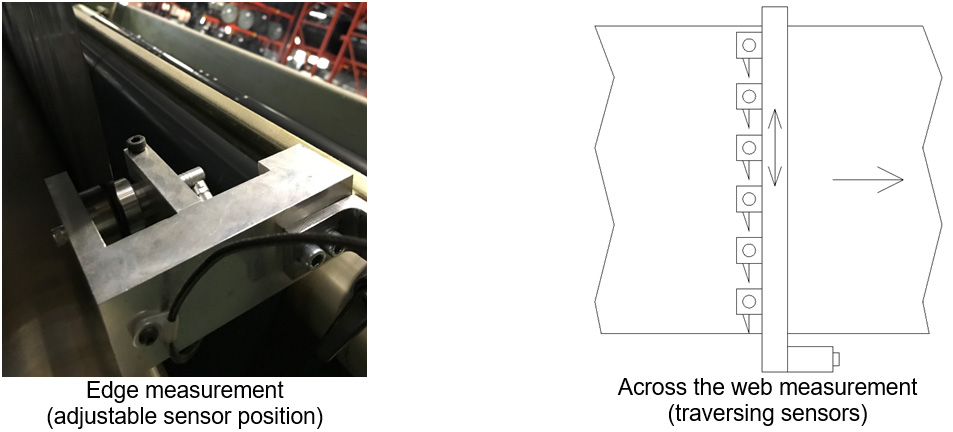 Continuous high-precision (0.01 mil / 0.00025 mm resolution) non-contact measurement of the film gage at the edge of layflat. Offsets can be pre-programmed for different chemical compositions.
Manually adjustable sensor position at the edge of layflat, or automatic traversing of the width of layflat by means of servo slides, for both blown or cast film. Standard single-sensor traversing system can be equipped with multiple sensors for reduced zig-zag effect over the averaging area and increased accuracy. Scalable for the maximum web width.
Controlled by means of automatic controller and equipped with an HMI to allow for storage and retrieval of multiple preset sizes, continuous display of the current and average values, as well as circular graph over 360˚ in oscillating or rotary die blown film applications, or linear graph over the layflat width for stationary die blown film and cast film applications.
Digital, analog or discrete feedback for interfacing with 3-rd party automatically adjustable dies.
COMMON
Bubble cage, layflat and gage control can be supplied with individual control systems, as well as common controls for all three or any combination of, which allows for data sharing, cost reduction and overall performance enhancement by using specific redundancies in acquired data.
Three
Rewind Machine
Model RM-500-150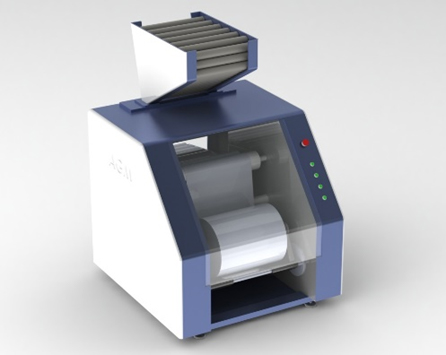 It is a semi-automatic machine where the jumbo roll is replaced manually while the finished rewound rolls on a paper core are discharged and start automatically.
The rewinding parameters are set from the tough screen: rewinding speed, ramping up and down speed, finished roll film length or diameter and roll counter. The finished roll can be also determined by its weight.
The process and alarms are indicated on the touch screen.
The machine can work with different rewinding cores that can be easily exchangeable.
SPECIFICATION
Film Material: PVC cling film; PE stretch film
Film thickness: 5…30 microns (19.6 ga …. 118 ga)
Mechanical speed, max: 1200 m/min (3900 ft/min)
Jumbo roll diameter, max: 400 mm (16″)
Jumbo roll core width: 280…520 mm (11″…20.5″)
Jumbo roll film width: 260…500 mm (10.2″…19.7″)
Jumbo roll core ID: 76 mm, 152 mm (3″)
Finished roll diameter, max: 150 mm (5.1″)
Finished roll core width: 280…520 mm (11″…20.5″)
Finished roll film width: 260…500 mm (10.2″…19.7″)
Finished roll core ID: 30 mm (1.2″)
Core diameter and wall thickness: – core ID 30 and 2.5 mm (0.10″) Core diameter and hopper capacity for 30 mm core: appr,70 pcs