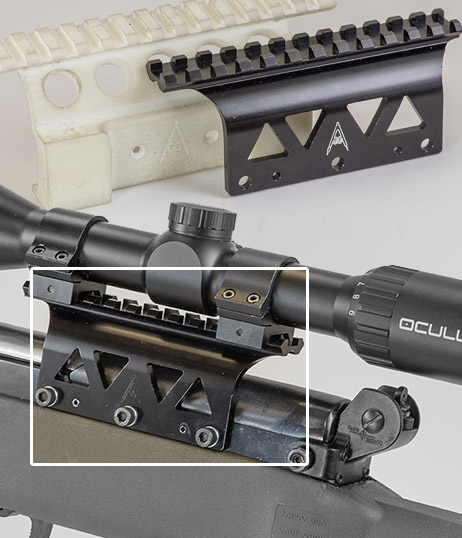 Picatinny Rail
AGM Automation Systems Inc. offers premium quality, precision machined Picatinny rail for its clients. Our rails ensure quick and secure deployment of accessories for both, normal and rapid response procedures.
Precision Milled and Machined Picatinny Rails
The Picatinny rail is a mechanical device that allows the installation of accessories on firearms, quickly and securely. It has undergone several standards, the most famous of which is MIL-STD-1913 (AR), adopted by NATO. Hence, whether milled or machined, Picatinny rails require precise cutting to ensure easy, rapid response, and secure installation of accessories.
Nowadays, most accessories for firearms are designed to be installed using rails. The picatinny rail is available in several models, depending on the size of the weapon and accessories that you want to install. Most commonly, the rails are used to install laser beams, scopes, or a front handle.
Historically, two types of rails have emerged: the Review and the Swan/Weaver (more commonly known Picatinny). Although the notches of these two types of rails are different, it is often possible to install a same accessory on one or the other type of rail.
Engineered for Increased Tactile Strength and Rapid Deployment
AGM Automation Systems Inc. offers premium quality Picatinny rails and milling bits that are machined to exacting tolerances.
We understand the vital role rails play in extending the utility of a firearm. Hence, our team ensures that each rail is milled to exacting tolerances. Accessories are usually installed on the rail by dragging them from one end to the other, then screwing them. The larger groove coils are crucial for reducing the perceived impact of recoil on the attached accessory. To prevent the rail from being deformed due to the heat released by the gun during firing, our rails are milled using only the best quality bits available in the market. This ensure that the rail is expandable along the longitudinal axis.
Our team specializes in catering large orders while ensuring that each rail is carefully cut to ensure it meets the precise standard measurements.
If you have any Picatinny Rail need, feel free to contact AGM Automation Systems Inc. today and get the best services with guaranteed high quality and after service. You can also contact us for quality assurance consulting.
AGM- Turnkey Solution for the Industry